Washington, DC — In a forum last week attended by more than 600 scientists and policymakers from around the globe, The National Council on Science and the Environment (NCSE) named Manchester law firm founder Michael P. Carvalho as chairman of its board of directors.
Carvalho's affiliation with NCSE — a nonprofit organization founded 30 years ago to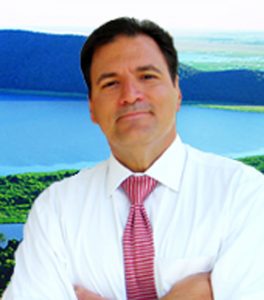 improve the scientific basis for congressional environmental decision-making — began when he was "a young lawyer" in Washington, D.C. In 1997, he became involved with its EnvironMentors Program for at-risk students nationwide, and has continued in deepening capacities ever since.
In an interview with the Times, he said he was back in D.C. last week and while there had dinner with "folks from Sonoma." Hearing their stories of trauma and tragedies through the recent onslaught of massive fires and mudslides in California, once again confirmed his belief that climate change is the most urgent issue facing the planet.
Carvalho, an environmental and energy attorney, previously served as NCSE Vice Chair, and chaired the EnvironMentors Program — to which he remains passionately committed.
The program has mentored thousands of underrepresented high school students "from D.C. to a Yakama Indian reservation" in pursuing degrees and careers in science, technology, engineering, and math, while enhancing their research, critical thinking, and communication skills.
Carvalho, recalling that his passion for environmental issues began as a Boy Scout in Boxborough, said that when the local public water supply was contaminated by toxic chemicals, the ensuing showdown between WR Grace and the town proved a watershed moment in his young life.
It inspired him to fight back on these issues. he said. At the University of Massachusetts Amherst, he earned a bachelor's degree in political science with a concentration in environmental policy in 1987.
From there, it was law school at Michigan State University, "cleaning up environmentally contaminated sites by day and studying by night."
Before founding his own law firm in 2004, Carvalho served as in-house environmental counsel to First Chicago-NBD Bank (now Chase) and General Motors Corp., prior to relocating to Washington, D.C., where he was a partner with O'Connor & Hannan, LLP, representing American and international clients in environmental transactional matters.
Now with offices in Boston, Atlanta, Detroit and D.C., Carvalho's firm has for more than 20 years assisted in environmental regulatory compliance, permitting, acquisition and redevelopment of environmentally distressed properties, as well as litigation in state and federal courts, obtaining multiple, record-setting verdicts and judgments.
The firm also works on renewable energy purchasing agreements and power generation for its clients, as well as advising on environmental matters related to resource development and transmission, including environmental impact statements, NEPA, and compliance.
Carvalho is particularly proud of the NCSE's negotiation of an agreement with France to honor the nation's commitment to the Paris accord.
"Politics should not be part of science," and vice-versa, he says.
While an advocate for science, NCSE does not take positions on environmental policies, but specializes in programs that promotes collaboration between individuals, institutions and communities.
Carvalho's teaching and lecture credits include serving as an instructor at Wayne State University's Graduate School of Chemical Engineering, Mercer Law School, Georgia State University Law School and Emory University School of Public Health and Emory Law School. He serves on the Board of Editors for ICSC's "Retail Law Strategist, as well.
He also routinely provides national training in environmental site assessments, federal brownfields law, and numerous related regulatory matters. And, he's a certified divemaster and rescue diver, and teaches scuba diving to adults and children.
Married and the father of two, Carvalho has sailed the waters of New England, the Great Lakes, Florida, the Caribbean, and the Kingdom of Tonga in the South Pacific. This Feb. 15, he will set out with "ninety like-minded idiots" (scientists, photographers and naturalists) on an exploration of Antartica. They will spend the better part of a month on a Polish ice breaker studying sea level rise, and he will spend a good deal of that time scuba diving and writing a paper about his experiences.
"I've done plenty of cold water diving," said Carvalho, "But nothing like this."
https://carvalholawfirm.com/wp-content/uploads/2018/02/climate-change.jpg
1203
1272
Carvalho-admin
https://carvalholawfirm.com/wp-content/uploads/2020/04/logo_carvalho.png
Carvalho-admin
2018-02-06 09:25:38
2022-04-21 10:12:58
Michael Carvalho named Chairman of National Council on Science and the Environment