Contact Us
Please email us by filling out contact form below.
By clicking 'SEND' above, you are agreeing to the Notice below and the terms of this web site.
NOTICE: Emailing an attorney shall not and does not create an attorney-client relationship between the attorney and users of this web site or any other party whatsoever. An attorney-client relationship is ONLY established through a written engagement, and only where doing so would comply with all applicable laws and ethical rules.
CONFIDENTIAL INFORMATION: Transmission of information on-line, over email, or through any electronic means can be unstable, unreliable and insecure. You should not send information or facts via e-mail relating to your legal problem or question. If you do not have an existing attorney-client relationship, your e-mail may not be privileged or confidential.
Call Us
(678) 354-0066 – Atlanta Office
(978) 525-0305 – Boston Office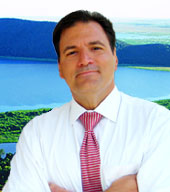 Michael Carvalho
President
Michael Carvalho, President of Carvalho & Associates, is an Environmental and Energy Attorney with over 28 years of technical, business and legal experience. He is also an experienced trial lawyer and has recovered millions of dollars in connection with violations of Federal Clean Water Act, Superfund, and the Clean Air Act. His Firm specializes in Environmental Law, Land Use and Real Estate Development.
Carvalholawfirm.com