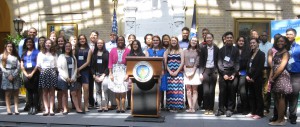 WASHINGTON, DC – Top placing students from each EnvironMentors chapter travel to Washington, DC to compete for these college scholarships at the annual EnvironMentors National Fair. The 2015 Fair was held on Monday, June 1, 2015, at the U.S. Department of Agriculture in Washington, D.C.  Environmental Attorney Michael Carvalho, past Chair of EnvironMentors Advisory Board and Member of the Board of the National Council on Science and Environment, was honored to serve as Emcee.
The EnvironMentors Emerging Leader Scholarship is the top scholarship awarded by EnvironMentors in the amount of $10,000. This scholarship is granted to an EnvironMentors student who is a graduating senior, has participated in EnvironMentors for at least two years, has been admitted to college, demonstrates a genuine commitment to the environment, and who, as a result of their participation in EnvironMentors and other related experiences, has decided to pursue and environmentally-related college degree program. 
The 2015 EnvironMentors Emerging Leader Scholarship was awarded to Erin Murphy, who will be attending the University of California and plans to pursue an environmentally-related college degree.  
 For more information about the EnvironMentors program, please visit www.ncseonline.org